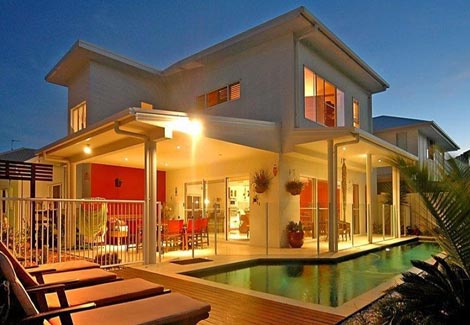 The luxury real estate market in British Columbia is characterized by a relatively small market share in total residential sales. However, it boasts some of the most expensive properties in Canada, whose value is derived from the exposure to some of the most beautiful natural landmarks in Canada, popular recreational localities, and particular lifestyles. These properties have weathered the economic downturn well and will remain attractive because of their positioning in some of the most beautiful localities in Canada and the world.
Four areas of British Columbia, namely the ocean-facing Greater Vancouver, White Rock-South Surrey, Victoria, and the inland-located Kelowna, represent the major locales of luxury real estate in the province. These areas boast some of the priciest properties in Canada, with the minimum upper-end price thresholds ranging from $1 million in Victoria and Kelowna to $2 million in Greater Vancouver. Luxury properties in White Rock – South Surrey are those priced over $1.2 million.
Despite the economic downturn, unit sales of luxury real estate in British Columbia have performed relatively well. In the four noted areas of the province they were down 1.7 per cent in 2008 (based on the first seven months of the year), from the total of 707 properties in 2007 to 695 in 2008. In some areas, such as Greater Vancouver and Victoria, sales were actually up from the year earlier, by 5.4 per cent and 4 per cent, respectively.
Luxury real estate in British Columbia accounts for a relatively small market share in the overall housing market. Among the provinces' hubs of luxury real estate, White Rock-South Surrey has the highest percentage share in total residential sales, accounting for some 14 per cent in total sales. It is followed by the upper-end market in Kelowna, which accounts for 4 per cent of total residential. Given that the residential real estate markets of Greater Vancouver and Victoria, with the highest population density, are much larger than those of Kelowna and White Rock-South Surrey, the shares of upper-end properties in these markets are much smaller, accounting for 3 per cent of total sales in Victoria and 2 per cent in Greater Vancouver. Interestingly, the market share of upper-end properties in Greater Vancouver has increased from 1.5 per cent share in the previous year.
Yet, despite the small share in total residential sales, the luxury real estate market boasts properties with the highest price tag in the country. The high price of the luxury real estate in British Columbia is usually associated with a particular lifestyle or recreational appeal. In this sense, British Columbia boasts many natural beauties and the vast oceanfront access to the Pacific. This has made the province highly attractive to homebuyers and property investors seeking lifestyle-associated leisure properties. Most demanded have been oceanfront or lakefront properties and condominiums with a view and access to the waterfront. Kelowna, which is located on the Okanagan Lake, has been attractive for its recreational and tourism appeal.
In the Greater Vancouver area, the most exclusive locations include Point Grey, UBC, Point Grey Road, Shaughnessy, West Vancouver's Altamont, Dundarave, and British Properties (with upscale panoramic ocean and city views), and the waterfront. The most prestigious neighbourhoods in White Rock-South Surrey include Morgan Creek and Elgin/Chantrell. In Victoria, buyers seeking retirement or lifestyle properties are attracted to Esquimalt, Victoria West or Victoria Proper, where many properties offer a mix of exclusive, upscale waterfront units. Also popular are Oak Bay, Cordova Bay, Fairfield and Ten Mile Point. In Kelowna, lakefront properties carry the highest price tag. The most popular upscale neighbourhoods include Upper Mission, Lower Mission, Lakeview Heights, and Carr's Landing.